Info in English
Become a member of Herning Squashklub:
Please use this link to register as member of Herning Squashklub which is needed for all memberships and booking of the courts (except PAY & PLAY): www.herningsquash.dk
Guide to membership registration:
Formular will be in bowser language.
Click the membership you need using below overview for translation: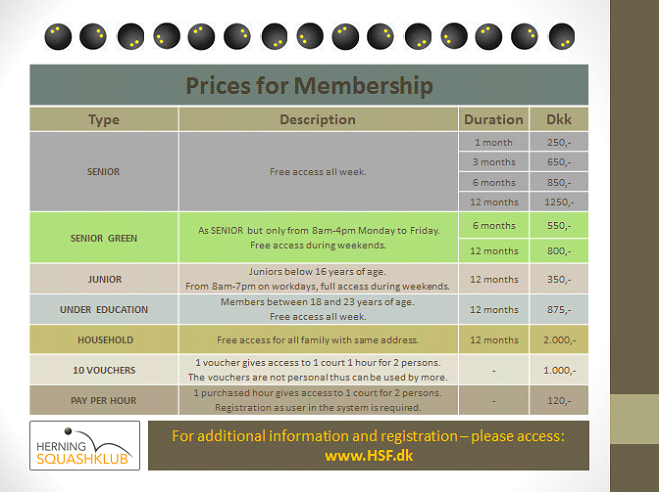 Thursdays where a member of the board will be able to assist you. Click here for pictures of board members:
www.herning-squashklub.dk/bestyrelsen
Booking a court:
Now you are able to book a court. Click here to select the time, date and court of your wish (green slots are available):
Free lesson:
Your can get a free hour before you decide to become a member. Free hours are all Thursdays from 8pm-9pm so send a mail latest Friday before to mail@herning-squashklub.dk and we will be happy to assist with rackets and guidence.
If you do not have a partner just show up same time slot and join the training.
Training:
Every Thursday from 8pm-10pm you can join for free training when you are a paying member of Herning Squashklub. Just show up at 8pm.
Opening hours:
Work days: 8am-11pm
Weekends: 8am-6pm
During holidays the sports center will be closed.
Rackets and balls:
We have our own store in the court area. Opening hours:
Thursdays: 7pm-9pm
Contact one of the board members for purchases.
We look forward to see you and will be happy to assist further!